Fungal Toenails
Toenail Fungus Treatment in Marlton, NJ
Our podiatrists treat toenail fungus in the area of Marlton, NJ 08053. Call our office today: Marlton at (856) 403-7923 if you are dealing with fungal toenails.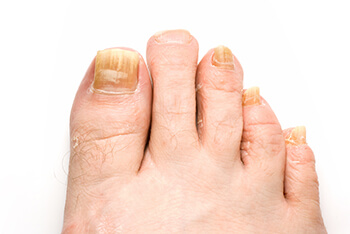 Onychomycosis, or fungal infection of the toenails, is a very common condition. The fungi that cause this infection live and thrive in warm and moist environments. Unfortunately, this makes the feet and toenails an ideal home for them. Toenail fungus is highly contagious and can be contracted from walking barefoot in places like public pools and communal showers, sharing personal items like towels and shoes, and coming into direct contact with an infected person.
Symptoms of Toenail Fungal Infection
Toenail fungus can change the appearance of the toenails. They may become thickened, brittle, or crumbly. The nails can also become discolored and turn yellow, white, or brown. They may begin to lift and separate from the nail bed and emit a foul odor. The infection is usually not painful unless it has progressed and become severe. People who have diabetes, poor circulation, a weak immune system, excessively sweaty feet, toenail injuries, or Athlete's foot are at an increased risk of contracting toenail fungus and experiencing complications.
Fungal Toenails Treatment & Prevention Tips
To avoid getting a fungal infection, it's important that you wash your feet daily with soap and water, making sure to get in between your toes, and dry the feet well. When cutting your toenails, make sure the clippers you're using are clean and that you're cutting straight across. It's also important that you wear shoes in areas where fungus can thrive, such as wet public places like swimming pools or locker rooms.
Toenail fungus can also be treated with certain over-the-counter antifungal creams and ointments. To remove pressure from the nails, keep them cut at a short length. Oral antifungal drugs, medicated nail cream, or medicated nail polish may also be prescribed by your podiatrist if simpler treatments do not prove successful. In some cases, your podiatrist may also recommend laser treatment to eradicate toenail fungus.
In its more severe stages, toenail fungus can become very painful. Other infections can develop from toenail fungus that can spread to other parts of the body. Upon examination for fungus, your podiatrist may scrape your nails if he or she finds debris. This sample will be sent to a lab to determine what fungus is causing the condition.
Toenail fungus can be treated through topical solutions, which are applied directly to the nail, oral antifungal medications, or laser treatment. In severe cases where the infection has progressed or is recurring, surgery to remove some or all of the infected nail may be necessary. If you have toenail fungus, please consult with a podiatrist who can find the right treatment for you.