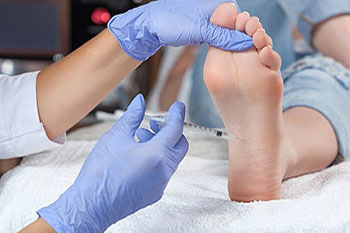 Leneva™ is an FDA approved treatment that podiatrists use for fat pad restoration, as well as to treat high pressure and deep tunneling wounds, diabetic foot ulcers, and painful corns and calluses.
This all-natural tissue graft is derived from donated human fat tissue (adipose tissue) and processed aseptically to retain its key beneficial elements. This Leneva™ adipose matrix is then injected under the skin in problem areas to act as a scaffolding system to support tissue reconstruction. Simply put, Leneva™ injections help the body to naturally regrow its own tissue.
When used in fat pad restoration, or to relieve pressure from corns or calluses, some patients can feel a difference after the first application. In certain cases, follow up treatments may be needed, and results may last up to two years.
In the treatment and prevention of foot wounds and ulcers, Leneva™ can help support tissue reconstruction and integration, while aiding wound closure and vascularization.
Leneva™ injections eliminate the need for surgery or steroids. The treatments are safe and administered in an office setting using local anesthesia. To learn more about the benefits of Leneva™, talk to our podiatrist.